Yoga For Life

An event brought to you in partnership with Andy's Pasta Dinner, The 4th Annual Yoga For Life is a community healing and fundraising event, an event where participants will be introduced to mindfulness through Yoga and Meditation. A donation of $25 will automatically register you for the event (event organizers will reach out to your email address to confirm your attendance). All donations of any amount are welcome.

$24,500.00

donated of

$50,000.00

goal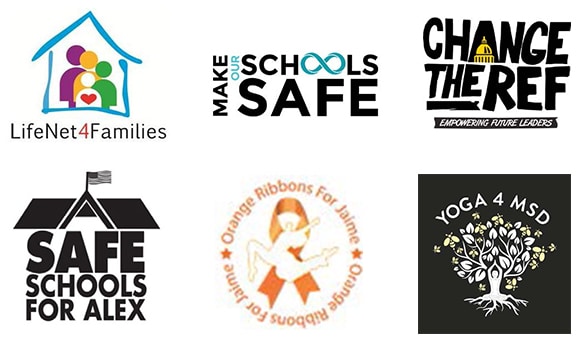 About this Campaign
Yoga For Life
At Andy's 18th Annual Family Pasta Dinner
A fundraiser promoting mindfulness, meditation, and community healing.
There are 6 organizations that will benefit from this event, which will take place 3 weeks before Andy's Pasta Dinner. They include of course Lifenet4families as well as Yoga4MSD, Orange Ribbons for Jaime, Change The Ref, Make our Schools Safe, and Safe Schools for Alex which were all founded as a result of the tragedy in our South Florida Community of Parkland at Stoneman Douglas High School on February 14, 2018.
Yoga Instructors:
Melanie Cordover
Lisa Ponczek
Mary Ann Morgan-Fried &
Amy Kenny, founder of Yoga4MSD
Meditation Teacher:
Shelly Tygielski
---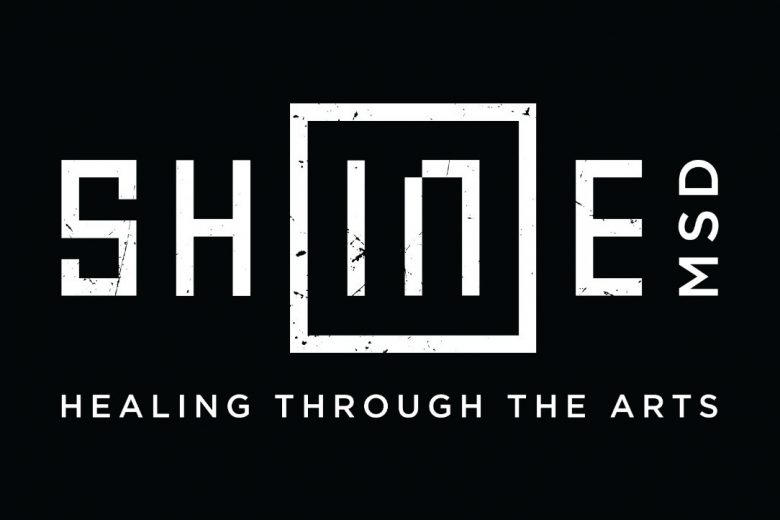 We are excited to announce that ShineMSD will be performing at the event.
---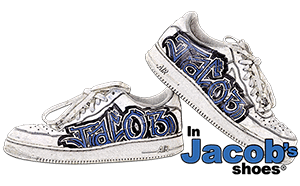 Yoga For Life is thrilled to partner with the charities In Jacob's Shoes and The Shirt Off My Back to assist those in need in South Florida. We will be collecting new and gently used shoes for the charity "In Jacob's Shoes" and donated clothing and toiletries for the charity "The Shirt Off My Back".
---
Event Date: Sunday, January 26, 2020
Time: 4 - 7 PM
Location:
Coral Springs Gymnasium
2501 Coral Springs Dr., Coral Springs, FL 33065
Cost:
$25 Donation Recommended
Children & Teens Free
What to bring/wear: Athletic Wear, Water, a Yoga Mat (if you have one or can borrow one, as supplies will be limited)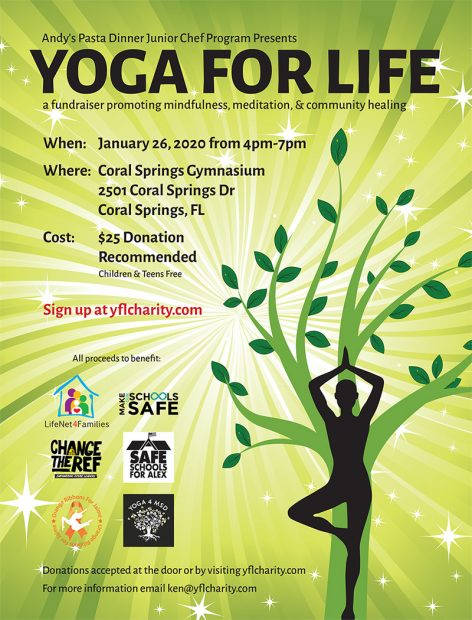 ---
YOGA FOR LIFE 50/50 & RAFFLE TICKETS – $20 EACH
*Please add to your donation in additional $20 increments to purchase online.
Raffle Prizes include:
2020 BB&T Center Concert Tickets – Compliments of Dex Imaging
Two (2) Suite Level Tickets and Parking Pass for any 2020 Concert of your choosing
(Includes Beverages, Light Snacks – Beer, Soda, Water, Popcorn, Cupcakes/Cookies)
2020 BB&T Center Florida Panthers Tickets – Compliments of Dex Imaging
Four (4) Suite Level Tickets and Parking Pass for any 2020 Regular Season
Florida Panthers Game of your choosing
(Includes Beverages, Light Snacks – Beer, Soda, Water, Popcorn, Cupcakes/Cookies)
Miami Marlins Batting Practice Experience – Compliments of the Miami Marlins
Two (2) Baseline Reserved tickets to a Miami Marlins 2020 Regular Season
Home Game with Two (2) passes to watch batting practice on the field
Miami Heat vs. the Orlando Magic Game – Wednesday, March 4, 2020
Compliments of the Miami Heat
Four (4) Club Seats (With American Airlines Club Access) Plus Parking
2020 Delray Beach Open by VITACOST.com – Sunday, Feb. 16, 2020
Best of the Best Seats in the House – Compliments of The Baron Family
An Incredible "ON-COURT" Experience, to include (2) tickets to watch many of the best players in the world competing only inches away from you, while sitting in a Porsche convertible! (Session 4)
12:30pm: Marcos Baghdatis / David Ferrer (Team Europe) v. Vince Spadea/Jesse Levine
(Team World) 2:30pm: Tommy Haas (Team Europe) v. James Blake (Team World)